60t Tires Mounted Gantry Crane has finished test running
Jun 09, 2021
Good news!
60t tires mounted gantry crane has finished test running, it will be shipped to customers' worksite across oceans.
Tires mounted gantry crane is designed to handle heavy loads flexibly with tires. And diesel engine power generator is equipped for convenient power supply.
60T tires mounted gantry crane in the article is designed for handle precast girder segments in overseas projects. Here some technical details shared with you.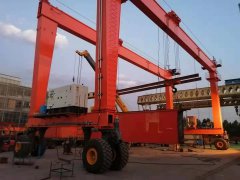 Project: LTD(30+30)T-25m-10m tires mounted gantry crane
1.Lifting speed: 0-1.5m/min with heavy loads, 0-2m/min with no load
2.Trolley moving speed: 0-10m/min
3.Crane moving speed: 0-30m/min with no load, 0-20m/min with heavy loads
4.Lifting objects: precast girder segments
5.Steel structure: box type double girder. Main girder is divided as several sections for convenient loading in container
6.Winch: JM5 from top ranking China manuafacturer
7."Three-in-one" motor/reducer/brake: famous brand from China
8.Tires: 26.5R steel wire tires from Techking
9.Main electrical elements/VFD: Schneider
10.Diesel enginer power generator: Cummins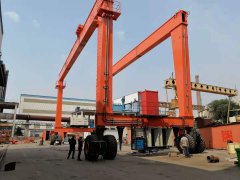 For any inquires or questions, just feel free to write back. You will get our response in 24 hours
Contact person: Brenda
Email: brenda@kevino-crane.com
Whatsapp: 0086-15290802640